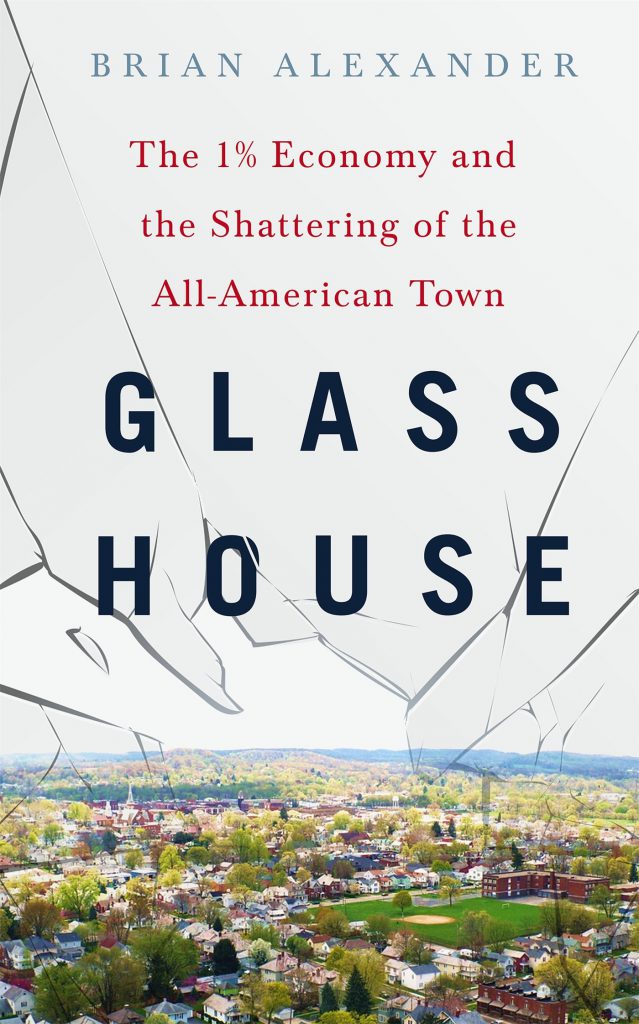 For Glass House media inquiries, please contact Joan Higgins, St. Martin's Press, 646-307-5557
Now Available!
PURCHASE: INDIE BOUND
PURCHASE: BARNES & NOBLE
PURCHASE: MACMILLAN
PURCHASE: AMAZON
PURCHASE: BAM!
PURCHASE: THE ELLIOT BAY BOOK COMPANY
Publisher: St. Martin's Press
Publication Date: February 14th, 2017
ISBN-10: 1250085802
ISBN-13: 978-1250085801
Visit glasshousebook.com
For readers of Hillbilly Elegy and Strangers in Their Own Land
One of The Week's 20 Books to Read in 2017
One of Bustle's 16 Best Nonfiction Books
Winner of the 76th Annual Ohioana Book Award; winner, best non-fiction book, Books by the Banks Festival; Finalist for the 87th Annual California Book Awards.
Named a best/most anticipated book of 2017 by: New York Post • Newsweek • The Week • Bustle
"Brian Alexander does a remarkable job of illustrating what happens when such schemes go awry."
– Sheelah Kolhatkar, The New Yorker
"A devastating read…For anyone wondering why swing-state America voted against the establishment in 2016, Mr. Alexander supplies plenty of answers."
– The Wall Street Journal
"Glass House's subtitle…hints at the book's difference from its best-selling predecessor. Alexander's book is less personal, less tortured, a work of journalism far more willing to indict forces larger than the stubborn, delusional pride of the white working class. This book hunts bigger game."
– Slate
"For those still trying to fathom why the land of the free and the home of the brave opted for a crass, vituperative huckster with an unwavering fondness for alternative facts instead of the flawed oligarch Democrats served up, Brian Alexander has a story for you."
– Len Boselovic, Pittsburgh Post-Gazette
"Emotionally striking…Alexander has combined his considerable journalistic talent with love for his broken hometown, producing an incredible, unshaking look at the true story of the American working class."
– Booklist
"[An] essential book to understand American reality and politics."
– The Washington Book Review
"Offers insights into how economic trends are tied to the financial and health problems plaguing many middle- and low-income Americans."
– CBS News
"Brian Alexander's moving new book "Glass House" explores how the undermining by venture capital of once-enviable factory jobs in Lancaster, Ohio, has nearly killed that once-thriving town. You could write the same book about half of the country."
– Chris Jones, The Chicago Tribune
"An extraordinary book."
– Vick Mickunas, Book Nook, WYSO, Miami Valley
"As Alexander carefully documents, Anchor Hocking and Lancaster were not undone by foreign competition, but by domestic corporate raiders, unshackled from regulations during the Reagan administration."
– John Warner, The Chicago Tribune
"Glass House is among the best of the books to hit shelves in the last several years exploring what's happened to the nation and the role that greed and the collapse of once solid institutions played in the demise of small-town, middle-class America. Among the others are George Packer's The Unwinding and J.D. Vance's Hillbilly Elegy."
– Newsweek
"Lays out a step-by-step account of Anchor Hocking's slide, benefitting not only from Alexander's strong reporting, but from candid interviews with key players. What is revealed is a complex system – Alexander argues it is deliberately complex – that allows savvy investors to make relatively small, highly leveraged bets on companies like Anchor Hocking…A valuable contribution."
– Forbes
"[The book] really comes alive in Alexander's portraits of the people caught up in the town's unraveling…If you want to understand the despair that grips so much of this country, and the love of place that gives so many the strength to keep going, Glass House is a place to start."
– Christian Science Monitor
"An examination of a town in Ohio that quite literally fell apart—and how that town in and of itself serves as a microcosm of the most pressing issues being faced in America today. From drug dealers to cops, from industry to finance, Alexander goes deep into the heart of what ails us and takes no prisoners."
– Newsweek's "The Week in Reading"
"Lancaster, Ohio, was declared the All-American Town by Forbes in 1947; its Anchor Hocking Glass Company was the foundation of a healthy, booming community. The town began to crumble as the factory shut down, as with too many other once-vibrant American hubs, leaving its citizens dreaming of the good old days. This well-reported book is all the stronger given the author's connection to it: Lancaster is Alexander's hometown. Shades of JD Vance's 'Hillbilly Elegy.'"
– The New York Post
"Reads like an odd—and oddly satisfying—fusion of George Packer's The Unwinding and one of Michael Lewis' real-life financial thrillers."
– Laura Miller, Slate
"Gripping…There are those who argue that leveraged acquisitions and restructurings of the sort that Anchor Hocking has endured make companies more efficient and steer capital to better uses…Alexander makes a persuasive case, though, that from the perspective of Lancaster, it's been one big fleecing… leaving behind a city with a weakened economic base and a shredded social fabric—and precious few resources to repair them with."
– Bloomberg Businessweek
"Provocative."
– The Columbus Dispatch
"Alexander deftly shows how Lancaster represents the collapse of the American dream in microcosm. The other Ohio. The other America. No New Deal awaits them. Their predicament is not covered on the evening news. But they have Trump."
– Inequality.org
"A well documented examination of how this once flourishing Ohio town became something else altogether."
– Dayton Daily News
"A particularly timely read for our tumultuous and divisive era."
– Publishers Weekly
"Those mystified by the election of Donald Trump could well start here… A devastating and illuminating book that shows how a city and a country got where they are and how difficult it can be to reverse course."
– Kirkus Reviews (starred review)
The iconic Anchor Hocking Glass Company, once the world's largest maker of glass tableware, was the base on which Lancaster's society was built. As Glass House opens, Sam Solomon, an African-American man born in rural North Carolina, arrives in Lancaster – reputed by locals to be "the whitest town in America" — to take over as CEO. Hired by the private equity firm that holds the majority stake, Solomon immediately realizes the company is in deeper trouble than he expected. Bankruptcy looms.
Inside the glass plant, Brian Gossett, erstwhile skatepunk and the fourth generation in his family to work for the company, is operating an H-28, a huge glass forming machine. But Brian has doubts about his career, the town, the country he's supposed to love.
Across town, a young heroin addict hears a knock at the door of the house where she's staying – another customer come to make a drug buy. A local football-hero-turned cop named Eric Brown has made it his mission to stem the drug plague. But Brown is wrestling with the realization that he can't ever arrest Lancaster's real problems.
Meanwhile, the leaders of the Lancaster Festival announce the hiring of a new executive director, Joe Piccolo. Piccolo doesn't realize it, but he hasn't been hired just to run a music and art fest; he's expected to help save the town.
As these and other stories unfold, Solomon's fight to rescue Anchor Hocking provides an unprecedented look inside a company in trouble, and explores a little-understood facet of the American economy that has helped wreck companies and towns while enriching those who understand how to play its game.
Compelling, heart-breaking, evocative, Glass House is a must-read for anyone trying to understand what's happened to many American communities and the people who live in them.